Napier to Auckland - 420km's
We decided to leave early and get to Taupo for brunch. Overnight there had been lots of rain so I fully kitted up which proved to be the right decision as it basically poured with rain from first thing to when I pulled up back home in Auckland this afternoon.
By the time we rolled in to Taupo I was hungry as and enjoyed a really nice brunch.
We managed to arrive just as the town was having it's Anzac day parade - for those out of NZ this is our day where we commemorate all those soldiers who have died in service to our wonderful little country. My own father in fact was a navigator with the New Zealand Royal Air Force in the Sunderland flying boats during World War Two. They flew across the Pacific protecting the boats providing supplies to the soldiers. Dawn ceremonies took place across the country with all shops closed.
Anyway, back to the ride - we carried on and turned at Kinloch and headed to Te Awamutu with a quick fuel stop then on to Bombay just before the motorway in to Auckland where Kevin, Kathy and I stopped for a shandy and a farewell. One of the couples stayed in Napier because of work commitments, another couple left us at Taupo to go and see family and Rick and Julie said farewell at TeAwamutu and headed home.
Taupo - wet wet wet!
Huge thanks also to JULIE for the extra photos below of the trip and for the panadol and cough lozenges to help the sore throat that has returned and the half tooth :)
An awesome pre journey journey and now it's a mad rush to get everything sorted before heading off on the larger New Zealand leg of my journey next week.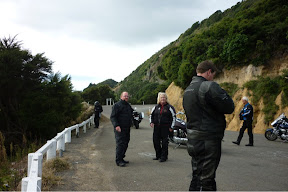 Andrew and Alex on their new Triumph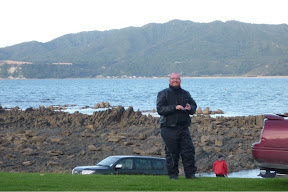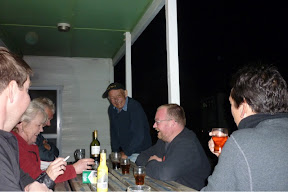 Lottin Point - middle of nowhere - brilliant!
Kevin and Kathy on the blue M109
The Sexiest Bike - Maroon C109 - aka Big Bertha
Julie and Rick - White M109
Me and Julie
Thanks for taking time out of your day to follow my blog. Cheers, Nick.