This afternoon I head off for my pre journey journey down to Tauranga, the East Cape, Gisborne and Napier which I am really looking forward to.
I woke up this morning to a beautiful autumnal day and being the reflective type sat on my deck with my morning coffee and ciggie and enjoyed the view that I have had for the last 12 years in my apartment.
When I bought this place I was still a teacher and didn't know a lot about how real estate worked but I knew what I wanted to buy and I took one step in to the place and fell in love and knew this was "the one". The agent must have felt absolute joy when she saw me as I promptly got bridging finance as I hadn't sold my old place, and payed way too much for it, but 12 years later i don't regret for a moment that i bought it. It has given me such joy.
For the first few years I had flatmates to help pay the mortgage and keep my head above water. When I moved from teaching to real estate there have been a few moments where I was on edge as to whether I could pay my expenses or not so to say I am am emotionally attached to the place is an understatement. It has been my place of calm in a world of chaos.
It is not a super special apartment. It has it's quirky aspects, but it's mine and home is where your heart is. So, this morning I had to take a couple of snaps of the beautiful morning that I woke up to.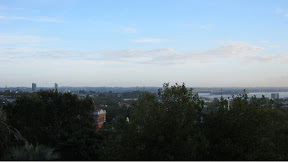 - Posted using BlogPress from my iPad